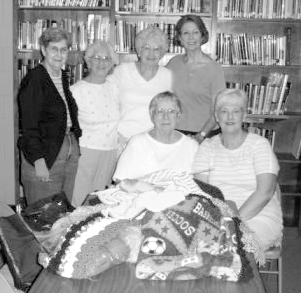 With hand-knitted shawls are from left, standing, Joyce Maffett, Bris Rex, Beverly Edwards and Myrna Fleeman.
Seated are Jane Storey and Marilyn Sutherland.

Fairburn United Methodist Church
5 Washington Street – Fairburn, Georgia 30213 -- 770.964.3393 – www.fairburnumc.com
Wednesday, October 05, 2005
Fairburn UMC Knit Wits
In few short months the Fairburn UMC Prayer Shawl knitters, The Knit-Wits, have made over thirty-five prayer shawls as a hands-on ministry of prayer and healing.
Sharing mantles of prayer for children, youth, adults, friends and strangers has become a vital ministry for our church. It has given members, young and old a way to connect with the community and others members.
While there was a desire to expand our prayer ministry and to create meaningful small groups for spiritual growth and fellowship we were stuck in a rut. In a casual conversation about how to reach the community in a new way, Shirley, a church member of Fairburn UMC, asked, "It might be a crazy idea, but would folks come together to knit?"
An organizational meeting was held and, sure enough by word of mouth the weekly prayer and knitting group meets to share prayers and to share knitting skills.
The Knit-Wits consists of beginners and experienced participants. Some have come to learn to knit; others have begun a new discipline of prayer. Together it has sparked a ray of hope in our congregation.
Church members have participated by donating yarn. And new neighbors have been reached in yard department of Wal-Mart and Michael's.
Some popular questions: "Who receives the shawls" Marilyn usually replies, "The Lord guides our hearts and we just keep knitting." "Who makes this shawl for me? As a group effort, the members would say "It's from the church and it's filled with many prayers."
This ministry has been an inspiration for the participants and the recipients and continues to be a blessing with each new shawl. Every week a few more shawls are prayed over and sent out as a point of contact in the Spirit and a warm hug of encouragement from our congregation.
Please contact our The Fairburn UMC Knit-Wits or www.shawlministry.com for more information.
Marilyn Suthernland, Coordinator
Submitted by John Brantley, pastor