HNP Today
newsletter
November 19, 2008
Vol. 42, No. 22
Knit Three, Purl Three: Prayer Shawl Ministry at Work
by Wendy Healy
<![if !vml]>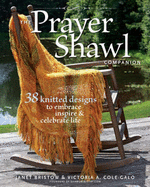 <![endif]>
HARTFORD — More than 200 women who knit and crochet gathered at St. Patrick-St. Anthony Church here on Nov. 1 to share stories of how their handiwork ministry feeds them spiritually.
The eighth Annual Gathering of Prayer Shawl Ministry Circles brought women to Hartford from throughout New England, New Jersey, New York, even from as far away as Kansas, said Janet Bristow, a St. Patrick-St. Anthony parishioner.
Bristow and her friend Victoria Cole-Galo are known around the world as the Prayer Shawl Ministry co-founders. She said the age-old art is enjoying newfound popularity.
"Anyone can do it," she said, "regardless of one's faith tradition, and even if you don't have a tradition. It's a gesture of your care and concern, when you cannot find the right words."
The hobby of praying for those in need while knitting a shawl or blanket for them has become so popular at church groups around the country that Bristow and Cole-Galo have written a book, The Prayer Shawl Companion: 38 Knitted Designs to Embrace, Inspire & Celebrate Life, released in September. It includes patterns for shawls, shawl stories, and prayers from knitters all over the country.
Knitting Leads to Ministry
"I never thought that my making shawls would lead to a ministry, let alone a book," laughed Bristow, who also gives seminars around the country to churches who want to start or improve their prayer shawl ministry.
She said the ministry is truly fulfilling and estimates that thousands of shawls have been made. "I stopped counting at 400. The blessings always come back to the shawl-maker — it's circular."
What makes this type of ministry special, said Michael Jones, OFM, of St. Patrick-St. Anthony, is the sheer number of people involved. "The care that each puts in making the shawls, and the fact that they are done prayerfully, and not just mass-produced, is important."
Mike said that each time he gives a shawl, people love the fact that the knitters have been praying for them. It is not just a shawl, but rather, the prayers, he added.
In October, Mike brought a shawl to the parish's sister church in Port Au Prince, Haiti. It was given to Madame Samsom, who runs a feeding program for neighborhood kids and was recovering from a stroke. She was thrilled, Mike said, to know that people were praying for her in Connecticut.
What made the gift even more special, he said, was that it had been made by Jane Gallagher, a St. Patrick-St. Anthony parishioner who had visited the Haitian ministry.
Gathering was 'Loads of Fun'
The November gathering was so popular that Janet, the organizer, had to turn away 90 people for space reasons. The groups shared their ministry stories, knitted, and of course, prayed, she said.
"It was loads of fun. People brought shawls, scrapbooks, and we even had a yarn exchange." Homemade soup for lunch was provided by the House of Bread soup kitchen, a ministry that partners with St. Patrick-St. Anthony.
Prayer Shawls for Fallen Soldiers, a sectarian group that makes shawls for families of loved ones who perished in the war, was among many groups at the gathering.
Also sharing, knitting and praying that day was the group from St. Patrick-St. Anthony, which includes approximately 24 women. The group prides itself on its ecumenism.
"We reached out at our church through our Muslim/Christian Women's Group," said Bristow, "and we were able to give the shawls to a Muslim man and woman during a difficult time."
So you see, she said, "that there are no boundaries. You can say, 'I'll pray for you,' and the shawl is a tangible thing."
Bristow, a special education tutor, who attended the Women's Leadership Institute at Hartford Seminary, said that the ancient art of shawl-making is rooted in spiritual practice. "A shawl that you make is a spiritual process. You pray for the recipients, whether you know them or not. You do it on your own, or with a group, and reach out to folks who need a hug, comfort, or are celebrating an event."
Bristow also reminds people that shawls are not only for the sick and downtrodden. "They are for the good times, as well as the difficult. Of course, that's the main reason to make one, but it's a wonderful thing to do whenever — they are for everyone."
While she has knitted since she was a child, "the shawls came out of our experiences at the Hartford Seminary. Upon graduation, Vicky (Cole-Galo) and I were challenged to do something with what we had learned during our time there. We thought the shawl was a perfect metaphor for what we experienced."
"As we prayerfully began to knit, the ritual of shawl-making became a grounding experience... ," Bristow and Cole-Galo write in the book's preface. "The steady knit three, purl three rhythm became a soothing mantra, enabling us to focus beyond the process of knitting to the words spoken in our hearts to our God. Slowly, the prayer shawl ministry began to knit itself within us."
Hartford's prayer shawl ministry was featured in a 2006 issue of The Anthonian, the quarterly publication of St. Anthony's Guild.
A Spirit-Driven Process
Calling it a "spirit driven" process, Bristow was surprised when Taunton Press, publishers of her book, contacted her and Vicky two-and-a-half years ago to write about the prayer shawl ministry.
To collect patterns from others, Bristow and Cole-Galo put a note on their Web site, asking for knitters to submit their favorite designs. The book is 170 pages of colorful photos of shawls and step-by-step instructions. With names like, "Blessings from Above", "Hugs from My Angel," and "Sabbath Shawl," the patterns include baptism shawls, nursing shawls, traveling shawls, wedding shawls, and more.
How does she feel about her newfound authorship and credibility as the prayer shawl ministry founder? "It is surreal," she said.
"We always looked at our Web site as an e-book, but this is very cool."
— Wendy Healy, a Connecticut-based freelance writer, is a frequent contributor to HNP Today.