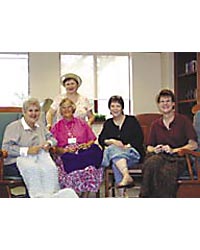 Making a Difference -- The Shawl Ministry, Contemplative Knitting
by Edie Eckman
Clothing may be one of the basic human needs, like water and shelter, but it may also serve other purposes. Participants in the quietly growing shawl ministry movement recognize that certain items of clothing -- shawls, in this case -- can serve as a comfort and an expression of support to people in times of crisis or transition.
Often called "prayer shawls," these shawls are made intentionally for someone suffering through a time of transition, crisis or need. They are often made with a specific friend or loved one in mind. They may be either knit or crocheted. While stitching, the maker of the shawl holds that person in her thoughts, according to her own spiritual traditions. Susan Jorgensen, co-author of Knitting Into the Mystery, a book about the shawl ministry, is reluctant to call these garments "prayer shawls," because the word "prayer" means different things to different people. For some, this may mean that a traditional "prayer" is said before, during and after knitting. For others, it may just be a quiet reflection. The key is that the work is done intentionally for the blessing and comfort of someone else.
The prayer-shawl movement is comprised of a surprisingly diverse demographic. Men and women from various faith traditions and walks of life are involved. Both beginners and experienced knitters can join in with equal enthusiasm. The actual pattern of a shawl doesn't matter, the stitching does not have to be perfect, there is no shaping involved and gauge is not crucial, all of which make it a good first project for novices. At the same time, expert knitters can enjoy working a project that can be accomplished while on "autopilot," allowing the knitter the opportunity to meditate.
Although the stitching of the shawl is done by an individual, groups have been organized around the country to unite individuals in their personal missions to give to those in need of support. Some of these groups are sponsored by churches; others have no such affiliation. A group in College Station, Texas, meets in a neutral location in order to be more inviting to those of all faiths. Members of the group, including two Catholic nuns and a Jew, don't say formal prayers, but as they knit they talk about the people for whom they are knitting. Group organizer Nancy Aldredge encourages members to talk about whatever seems comfortable; those not at ease with prayer may just offer an "Attagirl!" at the appropriate time.
Janice Fischer of Emmanuel Episcopal Church in Greenville, Va., reminds knitters in her group that this type of knitting is not a race or a competition, nor is it an obligation. It is, instead, a gift of love. The calming effect that this type of knitting imparts often benefits the giver as much as the recipient.
No special training or organization is needed to start your own shawl ministry. You don't have to organize a group. Just choose a recipient, yarn and stitch pattern, and then start knitting. You can probably think of someone you know whom you would like to acknowledge in some way. A wedding, the birth of a child, a broken bone, an illness, the death of a loved one: all of these are appropriate occasions to present someone with a "hug" in the shape of a shawl.
When choosing a yarn, keep in mind the preferences and needs of the recipient. If you are knitting a shawl for a nursing-home resident, remember it will be subjected to commercial washing machines. The mother of a new baby or those who are ill may prefer something soft.
The stitch pattern may be anything you like. Many people choose to use a pattern that incorporates "threes" in some manner because of the significance of threes in many religions. Similarly, the size of the shawl may be anything you choose. When you present the shawl, you may want to include a card with a prayer appropriate for the occasion of the gift.
You can read more about the shawl ministry at www.shawlministry.com, and in the book Knitting Into the Mystery (see book reviews, here).
http://www.creativeknittingmagazine.com/pages/features_details.php?_id=14