Thursday, 05/10/07
Ministries bind knitting, prayer one stitch at a time
For shawl ministry, comforting others is the craft at hand
By VIVI HOANG
Staff Writer
The Rev. Michael O'Bannon performs a blessing over prayer shawls at First United Methodist Church in Murfreesboro. Members of the church's prayer shawl ministry, including 10-year-old Amanda Giese, left, and her grandmother Pat McIntosh, gather around. (PHOTOS BY SANFORD MYERS / THE TENNESSEAN)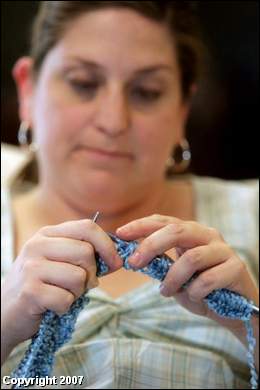 Carrie Ott of Murfreesboro works on her shawl.
Suzanne McKnight of Franklin found solace in a shawl when her 42-year-old son died of a heart attack.
The turquoise wrap was one that had been stitched together and, more important, prayed over by a fellow congregant in the prayer shawl ministry at McKnight's church. The blessings and care woven into the shawl made it special to
McKnight, whose son died just after Christmas.
"That has been a huge comfort to me," she said. "It's comforting to know you have friends thinking about you. I'll be wearing this a long time."
As knitting has surged in popularity, so too has interest among church groups in mingling the craft with spirituality. Knitters pray over their handicrafts as they stitch in hopes of sending their positive energy and communal blessings to the recipient.
Many of these groups have formed in just the past two years, drawing women of all ages. Some call themselves prayer shawl ministries, specializing in wraps such as the one Brentwood United Methodist Church made for McKnight. Others call themselves knitting ministries and make a wide range of handmade articles, often for charity.
"The knowledge that you are asking for God's help for somebody and really doing something about it at the same time — you feel a great sense of service to your fellow man or woman," said Sally Thompson of the Lady Fingers Needle Club of Cook's United Methodist Church in Mt. Juliet.
One of the older knitting ministries in the area began in 1999 at La Vergne First United Methodist Church. The ministry's roughly 20 members focus on knitting and crocheting children's sweaters for the inspirational magazine Guideposts'Knit for Kids program.
The publication now receives nearly 4,000 handmade sweaters a month, which are sent to refugee children around the world.
Last year alone, La Vergne FUMC shipped more than 800 sweaters to Guideposts.
"At first I thought, I'm doing so much good, making sweaters for these kids," said Liz Garrison, 79, one of the group's two original members. "Now I'm not thinking about the kids, I'm thinking about Liz because I am having so much fun."
Janet Bristow and Victoria Galo began the Prayer Shawl Ministry in 1998 after graduating from the Women's Leadership Institute at Hartford Seminary in Connecticut.
The idea caught fire. In the past nine years, Bristow and Galo have heard from roughly 2,000 groups in every state in the country, plus Canada and various places around the world. People can learn more about the ministry and its mission at the pair's Web site, www.shawlministry.com.
"People want to be able to comfort others in need, as well as celebrate milestones, and show how much they care — not only to the people in their lives, but to people they don't know as well," Bristow said. "The shawls are tangible symbols of the prayers, thoughts, intentions and good wishes from the shawl maker to the receiver."
Good deeds go long way
These ministries often begin simply with a shawl or a similar token of consolation.
About this time last year, a friend of an Inglewood United Methodist church member received a shawl, and the member, so taken with the idea, proposed the ministry to her fellow congregants.
The knitters and crocheters don't always know where their handiwork will go but they pray over each shawl as their nimble fingers fly, a benediction for the lucky recipient.
In all, the Inglewood UMC group has dispensed 17 shawls.
"Sometimes you think you have to do great things to help people, and that's not always true," said 55-year-old Vicki Wilkerson of Inglewood UMC.
Shawl ministries typically donate their goods to the sick, elderly and poor. Recipients aren't always local church members; they're just people who could do with knowing others are praying for them.
"A friend of our choir director is over in Iraq," said Connie East, 56, co-organizer of the Lambuth Memorial United Methodist knitting ministry in Gallatin. "We sent this guy a prayer shawl.
"He called me last night from the ship. It brought him to tears to think somebody that didn't know him would send him a prayer shawl: 'I took it around and I showed it to all my commanders and we hung it on the bridge so the prayers would go over the entire ship.' "
http://www.tennessean.com/apps/pbcs.dll/article?AID=2007705100302