Photo Gallery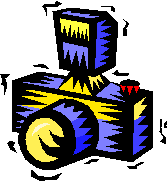 We started our church's Prayer Shawl Ministry in the spring of 2006 with 4-5 knitters. We now have a group of knitters and crocheters who meet twice a month, and since we started we have completed, blessed, and given away over 1000 prayer shawls. They have been sent out to 30 states and 3 countries. We also recently began knitting Twiddlemuffs for Alzheimer's patients and those with dementia.
In order to commemorate our creation of 1000+ shawls, I asked each of our members to knit or crochet an 8" x 8" square. Those 18 squares were stitched together to create a wall hanging that we presented to our church during a worship service when it was dedicated by our pastor and all of our congregation.
Pictured above is photo from our dedication ceremony and of the wall hanging
Joan Saxbury
Timnath Presbyterian Church Prayer Shawl Ministry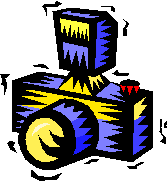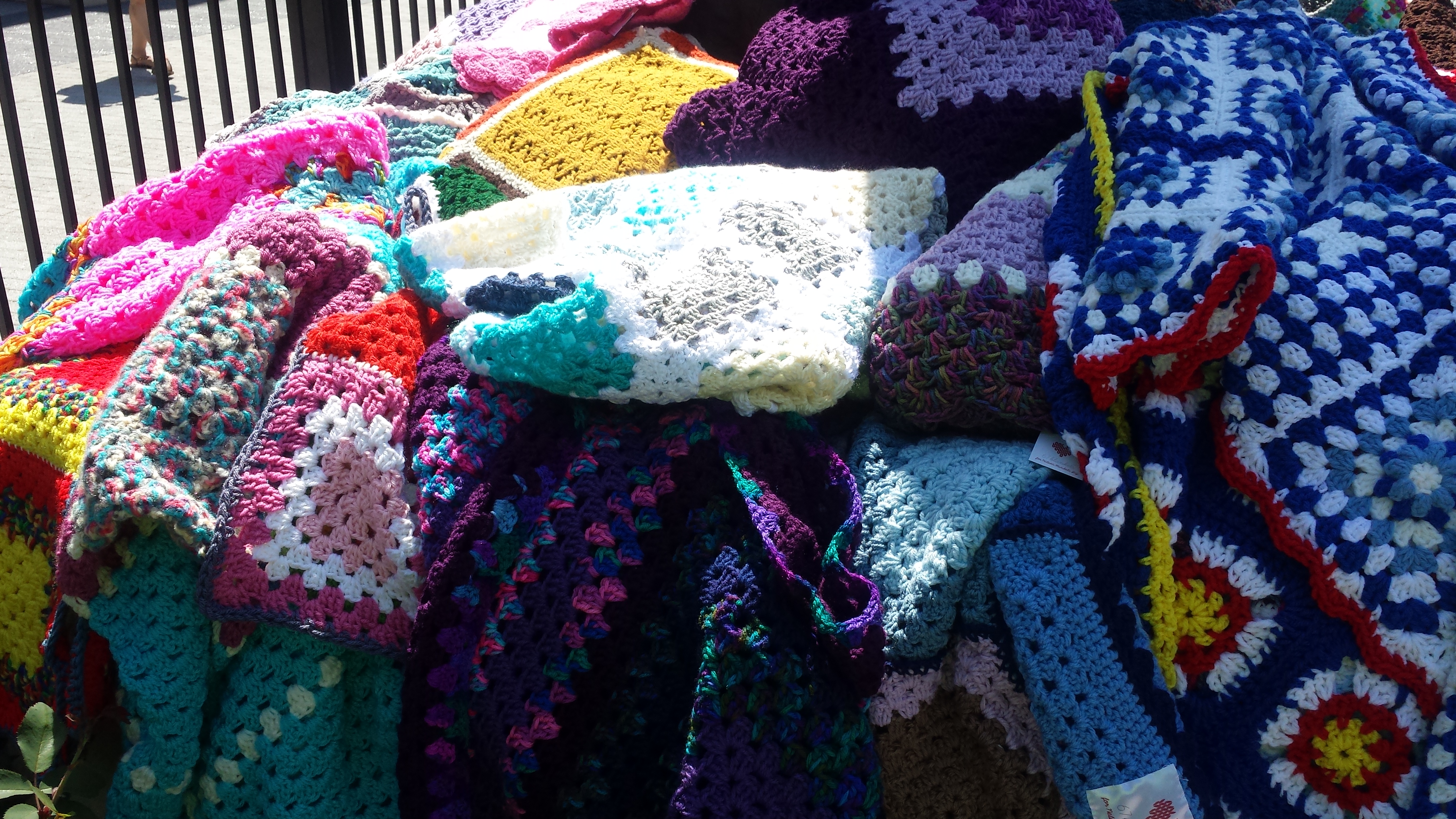 Rush Temple African American Episcopal Zion Church in Jamaica, NY
July 18, 2016 - pictured her are members of their "God's Hugs Prayer Shawl Ministry"
They took part in the distribution of 67 blankets during a 'Nelson Mandela Day' event in Washington, D.C.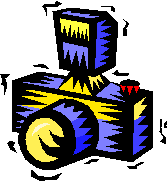 Nevada City UMC (left to right) Mary Ann Trygg, Cathy Nickalou Smith, Pastor Charles' wife, and Marte Sumwalt

During May 2015 members and friends recognized Cathy Nickalou Smith as the Founder of the Nevada City United Methodist Church Prayer Shawl Ministry. Cathy began the Prayer Shawl Ministry in the fall of 2006 which now has over 20+ members. The ministry makes shawls and lap robes which are a comfort to receivers, symbolizing caring and peace to those in pain, but also, joy and delight to those experiencing new beginnings.
To date, NCUMC has given out over 400 shawls and lap robes, which have journeyed over 200,000 miles collectively to reach their final destinations. Their Ministry has donated shawls and robes to Holiday Cheer, a senior Christmas outreach program in our area and has sent items to the Napa First United Methodist Church, California, after that community sustained a major earthquake last year damaging the sanctuary and affecting many lives. Additionally, after the Sandy Hurricane on the east coast in 2012, the ministry came forward by making and sending knitted baby sweaters to the United Methodist Committee on Relief.
Under Cathy's leadership, this ministry participated in the Prayer Shawl Ministry's publication Prayer Shawl Companion, published in 2008, which includes a shawl pattern by local knitter Dee Jones and a meaningful poem by crocheter Donna Foote.
Pictured here are members and friends of the NCUMC Prayer Shawl Ministry as they express their gratitude to Cathy Nickalou Smith for her hard work and dedication and for creating a lasting ministry for the Nevada City community and beyond.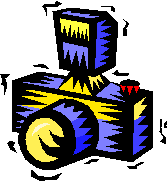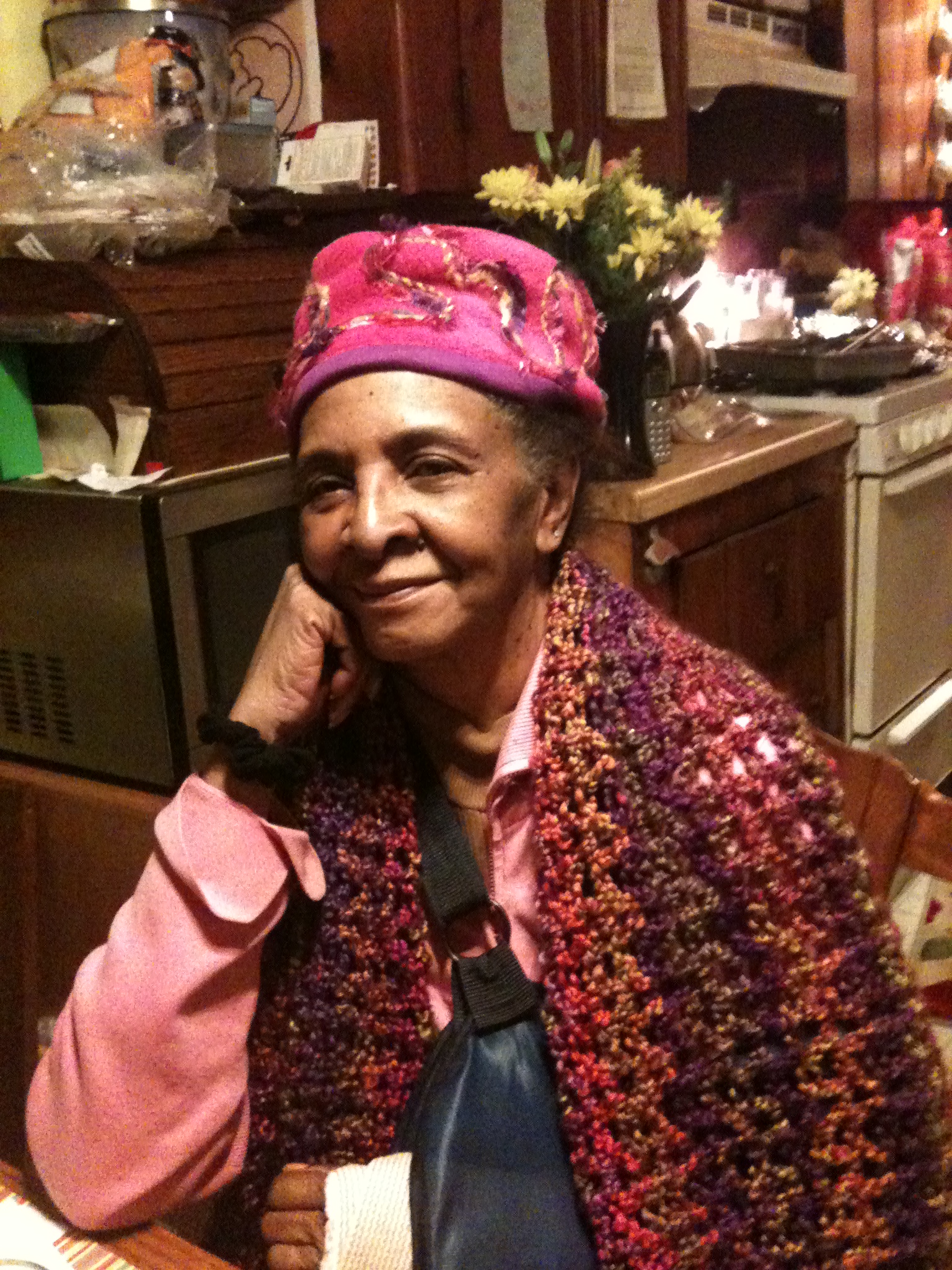 "...a picture of me in my wonderful shawl and the hat I bought
from a Felting Sister I know…. my friends & daughter honored me by bringing over
dinner after my wrist surgery, where we ate together in love and healing prayer." Joan J.
Felted hat by: Lisa Jacenich - Artful Gifts LLC, Staunton, VA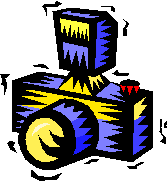 The Catholic Church of St. Peter in Richfield, MN
A banner made in celebration - "each strand of yarn is representative of our accomplishments . We always happen to have a box of leftovers, sometimes so many that we can make another prayer shawl. The seed for this idea was planted when I attended a blessing of the "shawl of shawls" at the Basilica of St.Mary in downtown Minneapolis. They had a rectangular piece with a wide "swoop" of yarn that fit on the front of the altar. In sharing the idea with my pastor he came up with the banner idea which was a better size..." Joan S.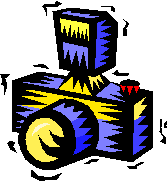 Members of the Prayer Shawl Ministry at the Good Shepherd Catholic Church Shawnee, Kansas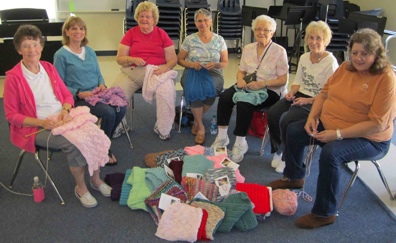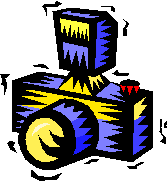 The 12th Annual Prayer Shawl Ministry Gathering - November 3, 2012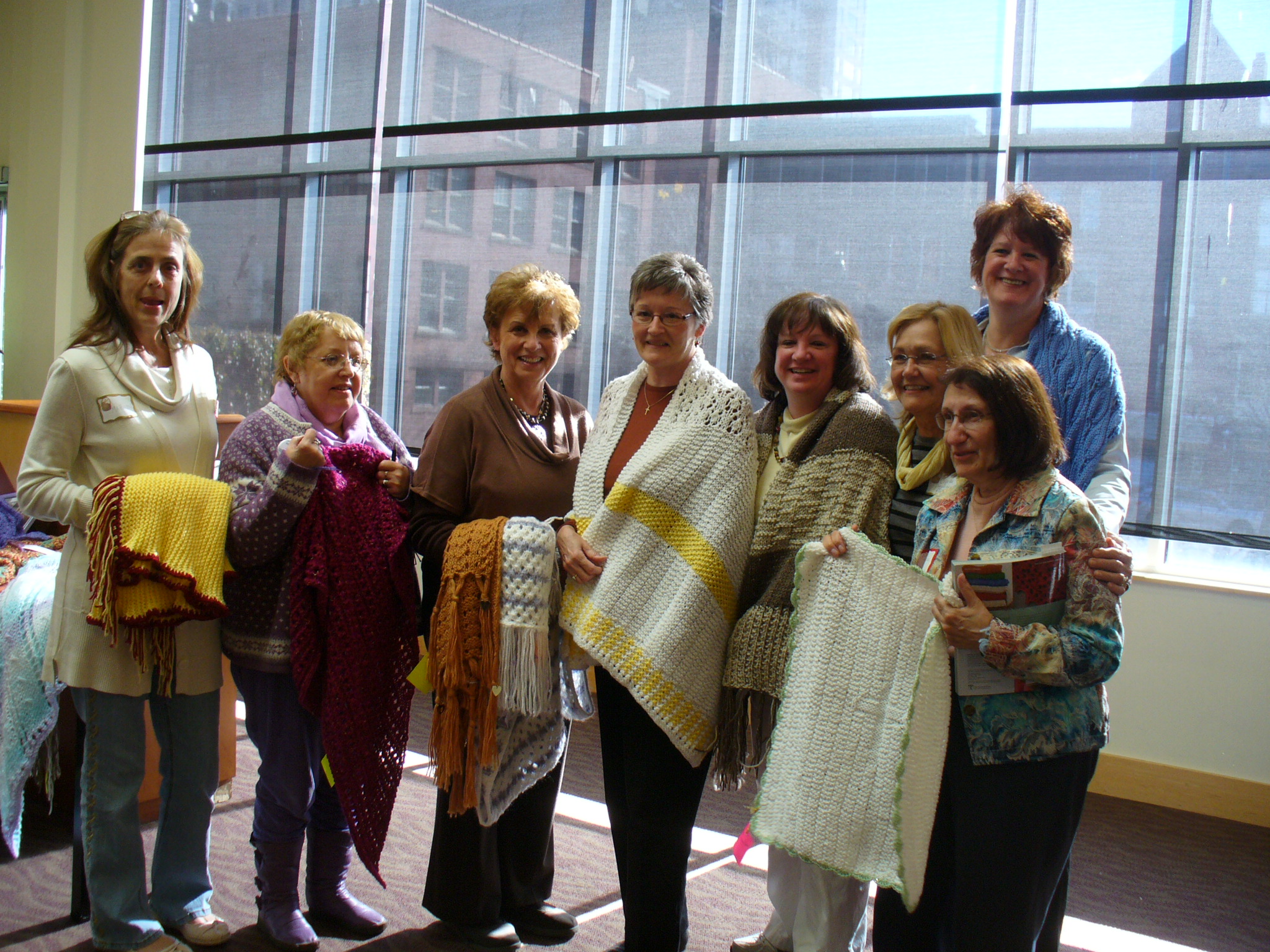 Pictured are contribuors to The New Prayer Shawl Companion book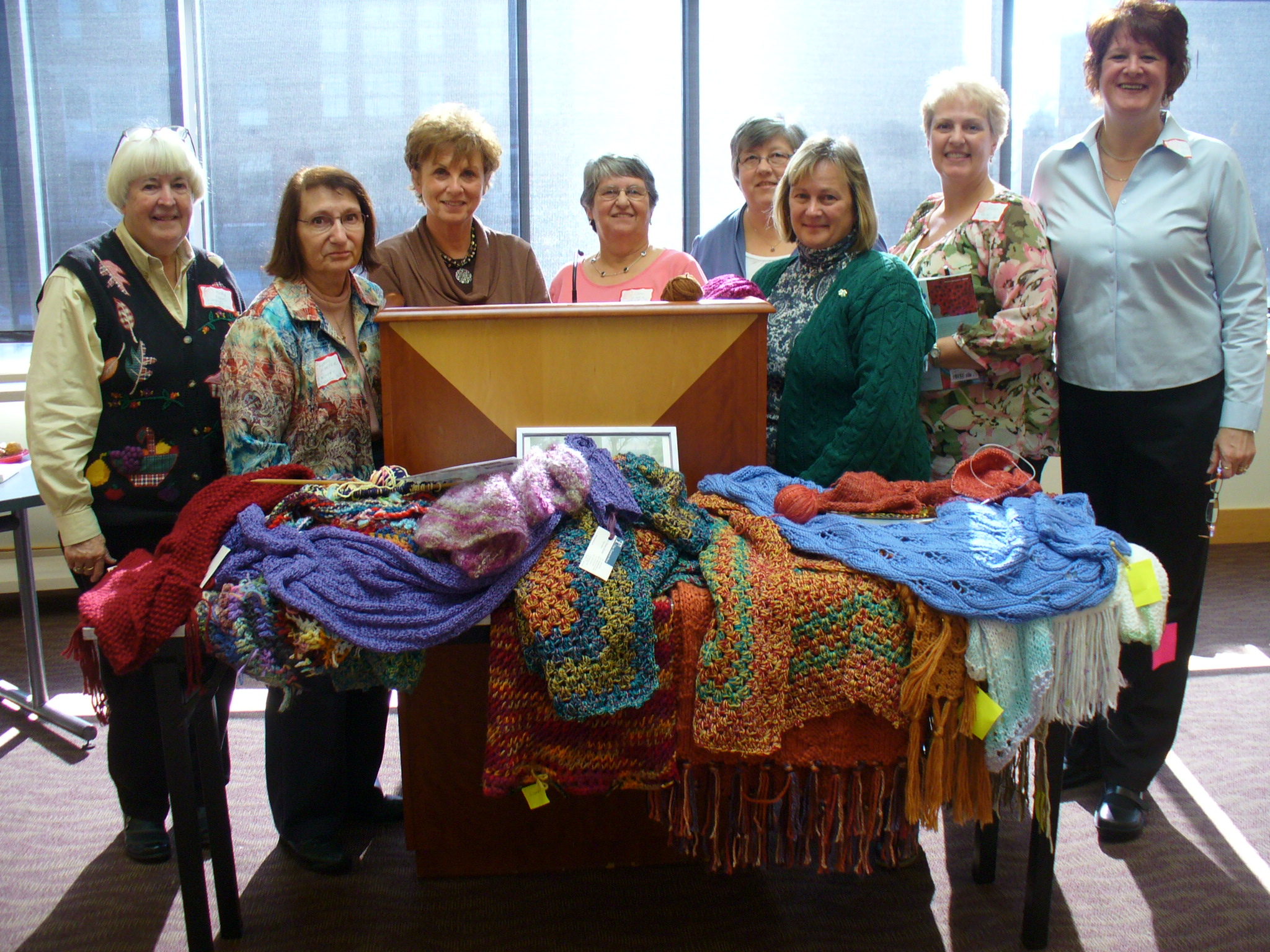 St. Patrick's Prayer Shawl Ministry - Whitinsville, MA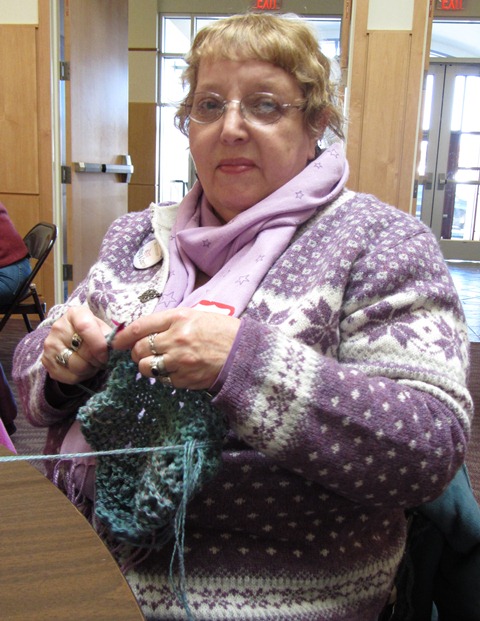 Anna Briggs - Knitting People Together UK Prayer Shawl Ministry Liverpool, England
Anna's video at our Gathering: https://www.youtube.com/watch?v=nv3od04dWBU
(Video by: Cozette: Pray Shawls 4 Fallen Soldiers (PS4FS))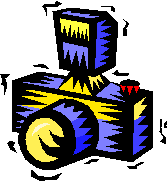 Members of Nevada City United Methodist Church
Cathy Nickalou of Nevada City United Methodist Church in California writes: "When my husband was transferred to Nevada City in 2006 we were planning programs for the year. I wondered what kind of response I would get if I introduced a Prayer Shawl Ministry. Much to my pleasure and surprise that first gathering in October was the beginning of a very successful ministry. Now, in 2012, our Prayer Shawl Ministry is still going strong! We are blessed to have 25 knitters, crocheters and weavers, some members of our church and others from the community outside our church. We come together every Thursday to create not only prayer shawls, but lasting friendships.
In addition to our weekly gatherings, we look forward to an annual getaway week-end each spring. It was at one of these retreats that our Traveling Shawl was created. To celebrate our birthdays, each knitter worked a few rows into the shawl using a yarn color corresponding to her birthstone. The result was not only a beautiful shawl but one that is passed from member to member, either to console or to celebrate, as the occasion arises. The theme for our getaway this past March, 2012, was "The Journey Continues: Prayer Shawls Travel the USA and Beyond." We celebrated having gifted over 400 shawls not only in just about every state in the United States, but also beyond our borders to Africa, Nepal, England, the Philippines, Japan and the Netherlands."
Photos by Cathy Nickalou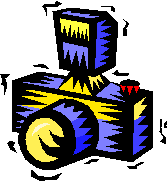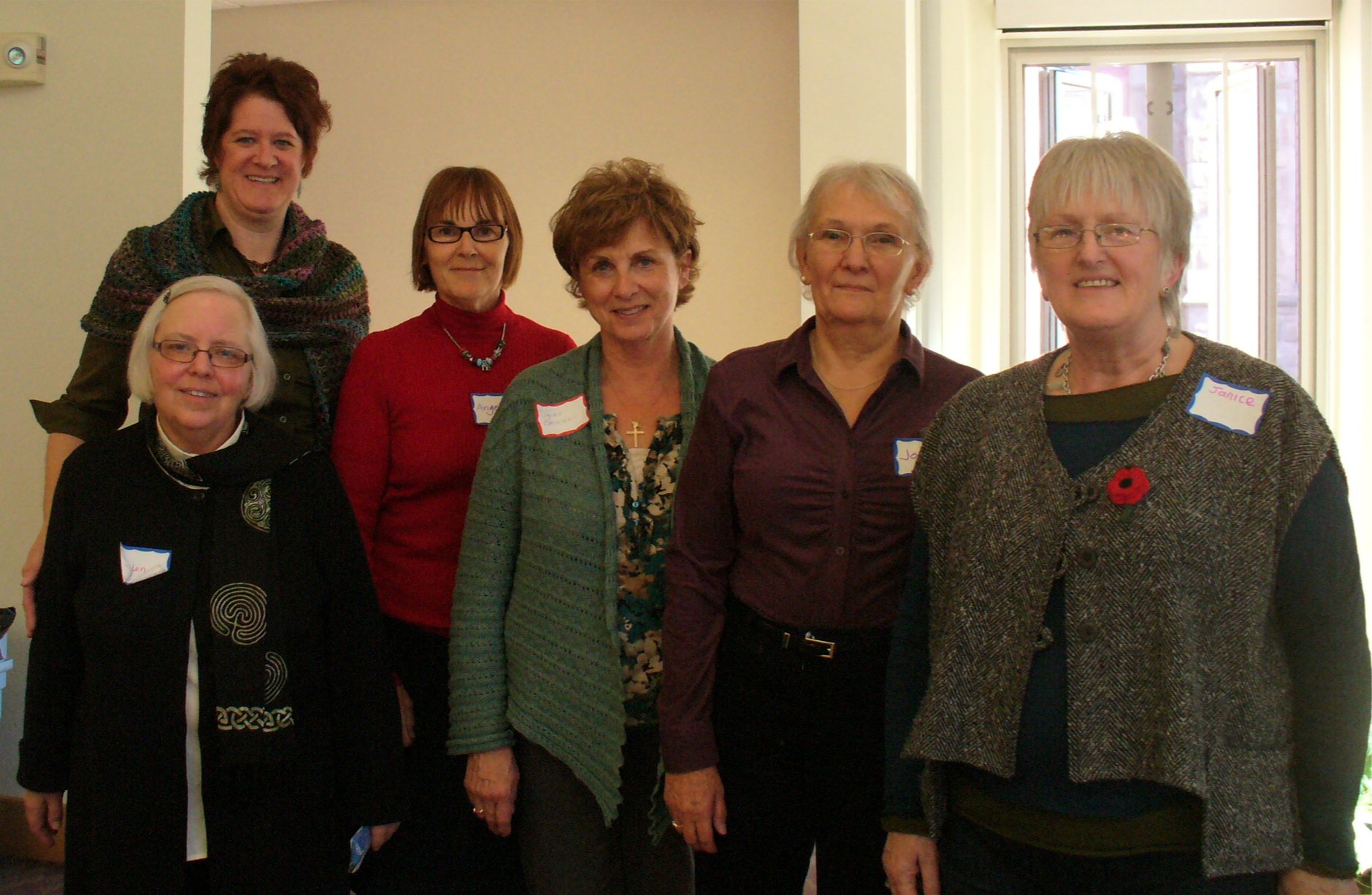 Gathering of The Circles November 2011
Reverend Helen Connoll, Victoria Galo, Janet Bristow and Prayer Shawl makers from The Diocese of Canterbury, Church of England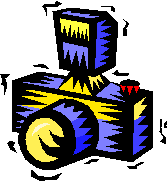 Group update: "During the four years of ministry at the First Baptist Church in Homer, Louisana - 32 ladies have been involved in crafting shawls. There are presently 17 active volunteers. As of November 2011, 305 shawls have been delivered 'hand to hand and heart to heart' to people with various needs including healing, comfort, appreciation, and celebration. Many parishioners have contributed to the ministry through prayers, cards and letters, and donations. This church has been a loyal supporter. Thank you, thank you, thank you for being a part of the Prayer Shawl Ministry." Joy Hayes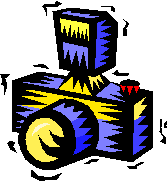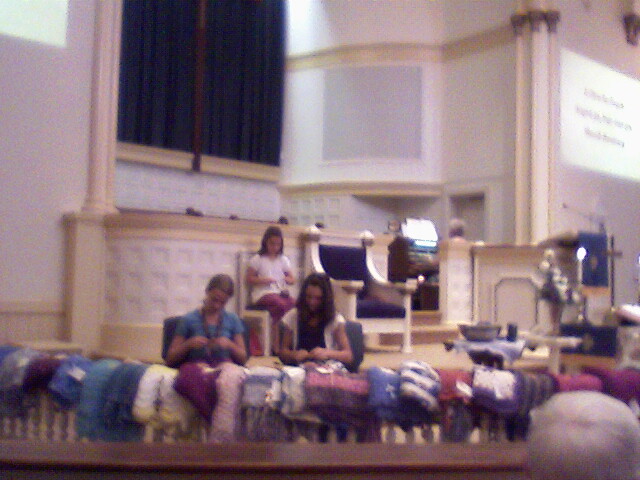 Young Prayer Shawl Makers - August 21, 2011
Prayer Shawl Ministry Rededication
Trinity United Methodist Church, Hackettstown, NJ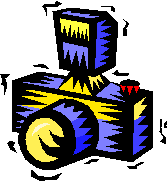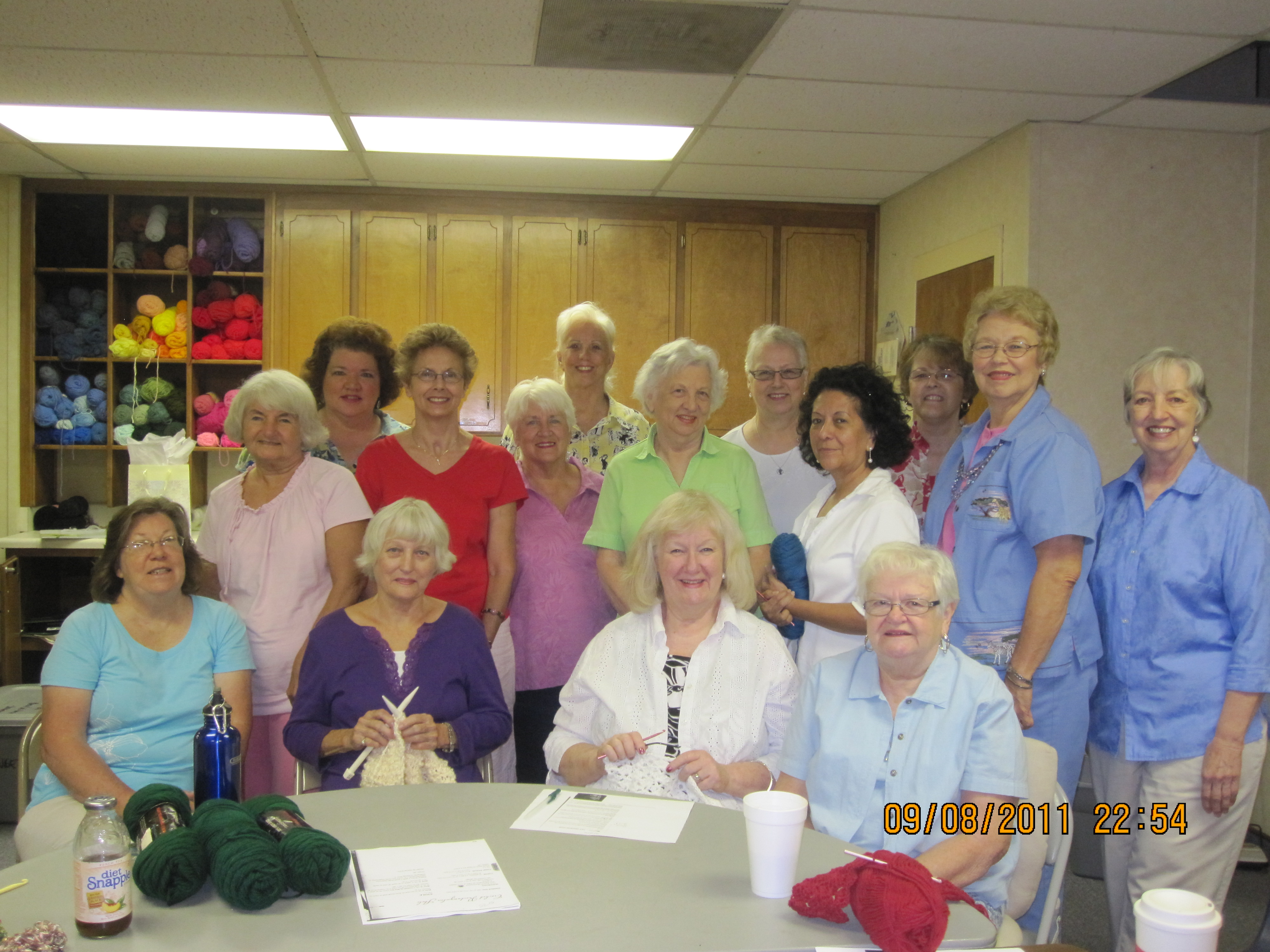 Olive Baptist Church Pensacola, FL
Photo by: Brenda Haitt on 9/9/11
Our group started about 5 years ago when a SS classmate, Glenda Southers, wore a beautiful knitted scarf to church. Margaret Kirk asked her if she would teach us to knit. About 8 of us went to her house where we learned to knit scarves. After going to yarn shops, picking out gorgeous skeins of yarn and taking knitting classes, we learned about prayer shawls though another knitter. We have evolved from wanting to knit for ourselves to knitting for others and now are also crocheting for those who are sick, hurting, grieving, dying. We've given away more than 600 shawls and lap blankets (for men). Some recipients of the shawls don't acknowledge the gift, but many are touched by the prayers and love that goes into each shawl. The yarn is either donated or purchased by the knitter. We provide a gift bag, a tract telling about the love of Jesus and a card signed by each person who prayed over the shawl. The knitters have found they are more blessed than the person receiving the shawl.
World Wide Knit In Public Day - June 15, 2011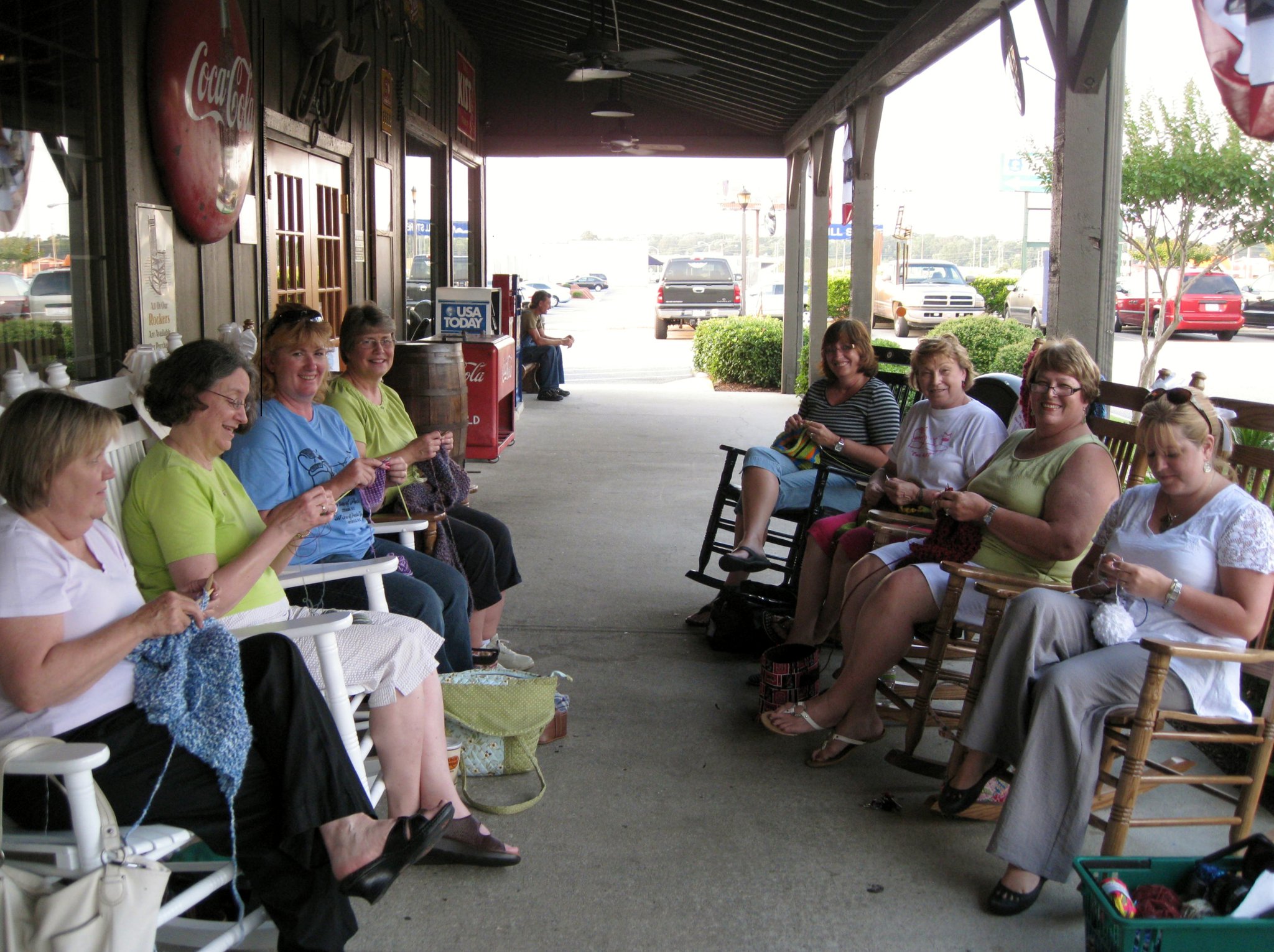 Hosted by: (Click here to read article about) The Prayer Shawl Ministry of First Presbyterian Church, Lumberton, NC
Knitting in rocking chairs outside The Cracker Barrel restaurant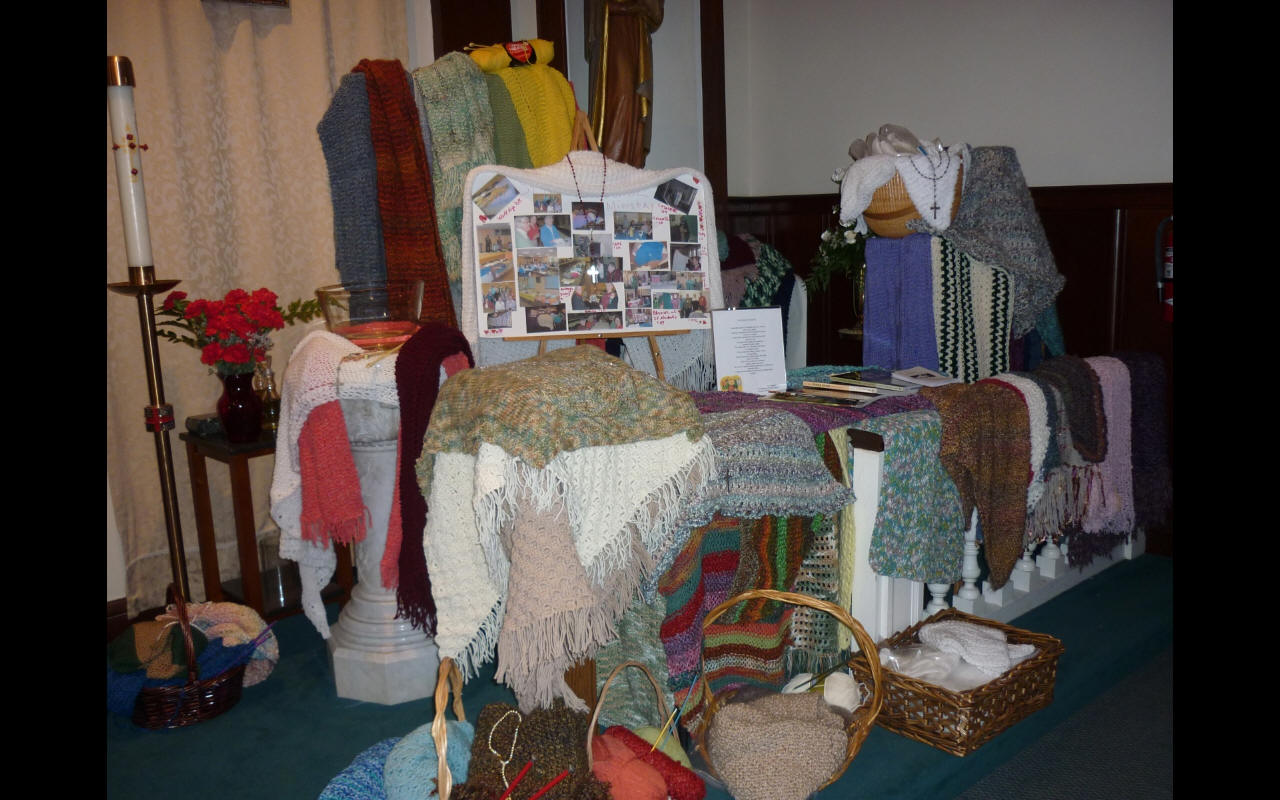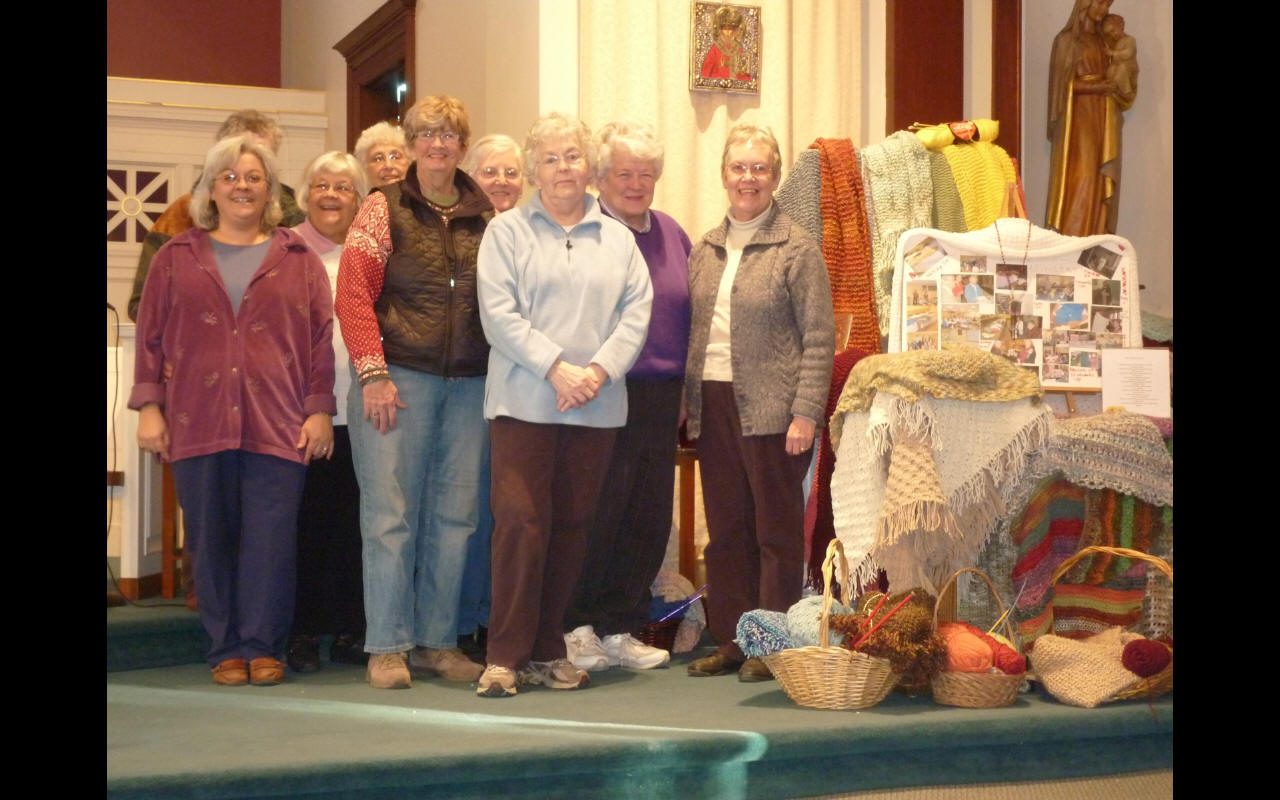 Blessing of the Prayer Shawls, St. Nicholas of Myra Church - North Dighton, MA
Front - Bela Powell,Maureen Dutra,Barbara Graca
Middle - Jeanette Phillipino,Anna Mae Schondek, Day O'Shea
Back - Lois Achtelik, Alice Souza, Kathleen Mastin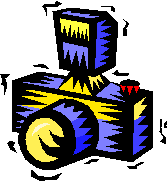 The artist Emily Biondo refers to her work as a piece of art.
The prayer shawl has been knitted using speaker wires.
(click on the photos to enlarge)
"The scope of my project is this: I wanted to create a cultural object and imbibe it with the culture that created it. I decided to make a prayer shawl. This specific version comes from a Christian ministry started 12 years ago in Connecticut. My aunt's church in Kutztown, PA, follows the ministry and knits prayer shawls for either specific or non-specific persons, praying over the shawl as they knit it for whomever it will be given to. The stitch is counted in threes, causing the knitters to meditate on the Father, Son, and Holy Spirit while knitting (much in a rosary mentality). After learning how to knit from my aunt, I knit a prayer shawl out of speaker wire. Now, I am gathering prayers from every religion that have a purpose of comfort or healing. By gathering, I mean more specifically that I record them with a hand-held digital recorder.

My intention is to wire these prayers through the prayer shawl along with neutral instructions on how to use the shawl and display it in an installation where people can sit down, put on the prayer shawl, and listen to the audio through headphones." Artist Emily Biondo (http://emilybiondo.com)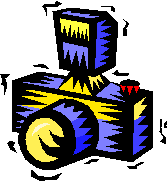 Members of: Our Lady Queen of Peace Roman Catholic Church - Maywood, NJ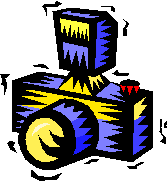 Pictured left ~ Mary Pelrine designer of "Mary's Hug" in the new book
The Crocheted Prayer Shawl Companion
~ and ~
Pictured right ~ Mary Pelrine and members of Our Lady of Mercy Church - Merrimack, NH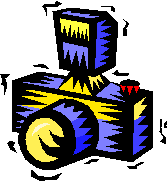 First Presbyterian Church - Branchville, NJ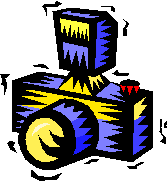 Tuesday March 17th, 2009
Hartford Seminary - Hartford, CT
Presentation of the Women's Leadership Institute
- Distinguished Alumna Award to:
Janet Bristow and Victoria A. Cole-Galo
From left to right: Professor MT Winter, Janet Bristow, Victoria A. Cole-Galo and Dean Efrain Agosto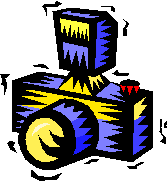 Photos from our 2008 Gathering
10 years celebrating the Prayer Shawl Ministry!
(click to enlarge photo)
1.) Gathering Activity
2.) Prayer Shawl Companion authors and contributors
3.) Doris and Sebastian cooking soup!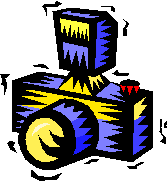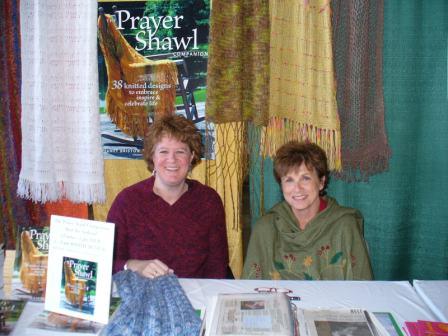 Vicky and Janet signing the book
The Prayer Shawl Companion at the
Sheep and Wool Festival - Rhinebeck, NY
Sunday October 19th, 2008
Pictured here are shawl makers from:
Westburn Presbyterian Church Port Glasgow - Renfreshire, Scotland
The group makes shawls and squares for a children's home in Bulgaria
Photo submitted by: Doreen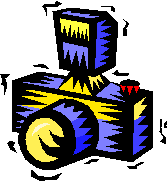 Members of the Luton Salvation Army - UK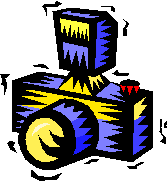 First Baptist Church - Homer, LA
Thank you for helping to get the Prayer Shawl Ministry started at Homer First Baptist Church.
Our organizational meeting was held on October 14, 2007, and since that time we have distributed 60 shawls.
In the beginning there were fourteen volunteers...some knitting and some crocheting. Presently there are
twenty-five receiving the blessings from this ministry. We meet twice a month and have made two presentations to the
church during worship service on Sunday mornings. Our pastor, Dr. James Simeon, supports the ministry
wholeheartedly as do all members of the church family.
The age of the volunteers ranges from 50 to 87; some are beginners and some have been knitting and crocheting
for many years. What a delight to see the members helping each other! We have received contributions from
supporters to help with the cost of yarn, but many purchase their own supplies.
Shawls have been distributed to cancer patients and others seriously ill, nursing home residents, those who have
lost loved ones, and some for occasions of rejoicing. Blessings have flowed abundantly, and our ministry
continues to flourish. These pictures show our initial group, a group who participated in a dedication ceremony at our
church, and a setup of some of the shawls in our sanctuary. Joy Hayes - First Baptist Church - Homer, LA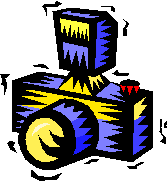 K-1 Sacramental Preparation Class
Prayer Shawl Bag Decorators from
St. Paul Catholic Church - Negaunee, Michigan
Photos By: Mary Stone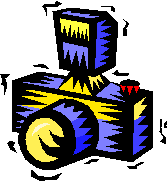 The Prayer Shawl Ministry's 7th Annual Gathering
Held at St. Patrick/St. Anthony Church Hartford, CT
Saturday November 3rd 2007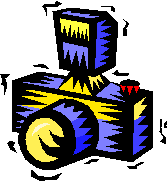 Avon Baptist Church Faith in Action Shawl Ministry
www.avonbaptistchurch.org
Photos by: Janet Hogan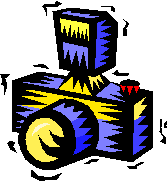 Greetings from Alkmaar Holland

We started with 14 ladies of our Salvation Army Corps. in Alkmaar Holland.
Our youngest member is 15 years old, the eldest lady is 84.
She is one of our most enthusiastic members.
We knit for people who lack warmth in our community or society.
Every week we meet I open our meeting
with a prayer from your internet site or a poem I found myself,
I light a special candle and pray for our meeting, our shawls and the people we knit for.
We are all enthusiastic. Today we evaluated our activity and we will go on with it till the summer vacation
and then in September we will start again.
When the idea aroused to start a knit and pray group in our corps, we were offered bags of wool,
needles, knit books etc. again and again.
So until now we did not have to buy anything, so all the shawls we made did not cost a penny!
We wrap our shawls in nice wrapping paper and together with a special card we offer our gifts with blessings and pleasure.
Everybody who we have offered till now is very pleased with it and that makes it worthwhile and fun to do this.
And together we are having a very nice time of sisterhood. We even send cards
when someone of the group is sick, we pray for each other etc.


One of our group members Ria Eichelsheim, chose to knit a shawl for a fishmonger at a market in her neighborhood.
For some years she bought every week a small fish and remembered him as always smiling and a kind man.
So on a cold Saturday morning we went to the centre of the city, looked for this man, 'Van Tol' and found him
in his shop next to the market. He was surprised when we presented him with the shawl.
In the meantime she was knitting several shawls and made several sisters in our corps very happy.
Also her own kids and grandchildren are wearing shawls of their own mother and granny.



[Pictured above] One of the members, Erna Boek, is our champ! She was the one who finished the first shawl
and she is surprising us all every time again with all the things she makes!
She wishes to send you a shawl, to express our joined venture with you in America.

Please, receive our greetings and blessings from an enthusiastic group of knitters and prayers in Alkmaar, Holland.

Ellen van Houten-Oranje, Captain
Salvation Army - Alkmaar Holland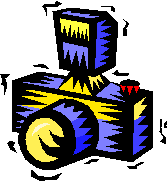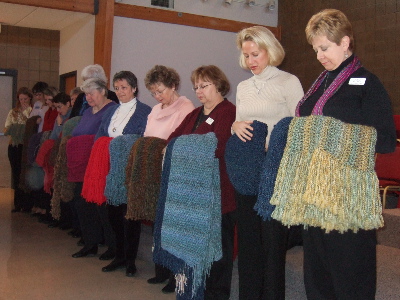 Blessing of the Shawls
Heritage United Methodist Church
January 28, 2007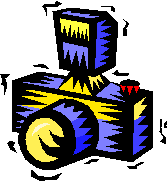 More photos click here to continue...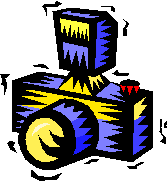 To see more photos of shawls - sign up for our free
(click on underlined words)
Sister Knitter - Knitter of Truth
Sojourner Truth