They say; "only God is perfect". We've found a few "oops" in our book The New Prayer Shawl Companion 35 Patterns to Embrace, Inspire, and Celebrate Life. Thank you to the folks who helped us out with these insights and suggestions. Here are items you may want to take into consideration when working within the book. We will have these corrected in future editions.
Corrections to the book: The New Prayer Shawl Companion
Pg. 31 - Two Sisters Prayer Shawl - Correction for rows: 6 & 8 - K5 st, *yo k2tog twice k 7 st, repeat 3 more times to last 9 st, yo k2tog twice, k5 st
Pg. 59 - City Garden Shawl - [Column of Leaves Pattern] "Middle Panel With MC, CO 23 sts." With the main color [MC] you should cast on 25 sts.
Pg. 62 - Simple Shawl - Although, there is NOT a mistake in the pattern - The designer of the Simple Shawl has made the following comments:
-The photos in the book features the wrong side of the shawl much more prominently than the right side. The detail photo on page 64 focuses almost entirely on the WS. So if people are looking at that and thinking its the RS, they will think that something is off.
-Misreading the pattern: could people be reading "k1-rb, k1" (which means, "knit stitch in row below, knit 1") as "knit 1, knit stitch in row below, knit 1"
-If the knitter is working at a looser gauge than I did and/or using a fuzzy yarn (such as an alpaca blend), the fabric will have a different look. I just did a swatch with 100% alpaca dk weight on size 6 needles, and the resulting fabric does not have near the definition of the sample in the book.
-There may be something about how people are working the knit 1 below that is throwing them off. The only way I can think of to address that is have them ask for help from someone experienced with the stitch, or consult some reference books or online sources.
Pg. 66 - Peaceful Texture Shawl - Section 5: This is the only section that doesn't get a K2 border, it is a K4 instead.
Section 5:
Change to Color A, oatmeal yarn.
Row 1: Knit 2 stitches, *knit 3, purl 3, repeat from * ten times to last 6 stitches, knit 6.
Row 2: Knit 4 stitches, purl across to last 2 stitches, knit 2.
Continue this pattern until section measures 8"

Pg. 87 - My Heart is With You Shawl - Charts have been enhanced with color. For easier viewing, copy and paste these images into a document and enlarge to a size that meets your needs.
Suggestions from Prayer Shawl Maker - Carole "Some additional suggestions from working the pattern: It might be clearer if after the phrase "beginning from 1st knit St left of blue-bordered sts." you add "and ending in the last St before the purple center stitches.....and then continue Work last 3 RS sts as....etc. Also, in the edging section, the plain square is knit on the right side and purl on the wrong side." Carole also notes: two symbols/abbreviations were not included in the legend (the solid circle = knit on wrong side; tbl = through back loop)
Chart 1:
Chart 2:
Pg. 139 - Petral Shawl - The chart change:
Above is the new/corrrected chart. In the original printing of the New Prayer Shawl Companion, "the chart repeat should be 1 stitch smaller. The right edge of the repeat box should be brought 1 stitch to the left. Also, the (original) chart doesn't represent the frm the markers that is present in the written instructions." Kristen TenDyke
Pg. 143 - Eyelet Hole Shawl - Row 3 should read: Kfb, k to last 2sts, kfb, k1
Note from the designer Anna Briggs: "In the first Row 3 k to last 2sts would mean k1. Every pattern repeat after that, it would mean Knit all the sts between the first st (which is the increase st, kfb) and the last 2sts, then kfb, k1 to finish the row. This is so that the second increase is inside the edge and keeps the edge tidier. Don't forget to knit the first st of every purl row, to keep the edge neat and tidy."
Corrections to the book: The Crocheted Prayer Shawl Companion (first edition copies)
Pg. 38 - Double Hug Shawl - when the pattern refers to "fold square in half" it means folding the square in half into a triangle. Here is a sample picture: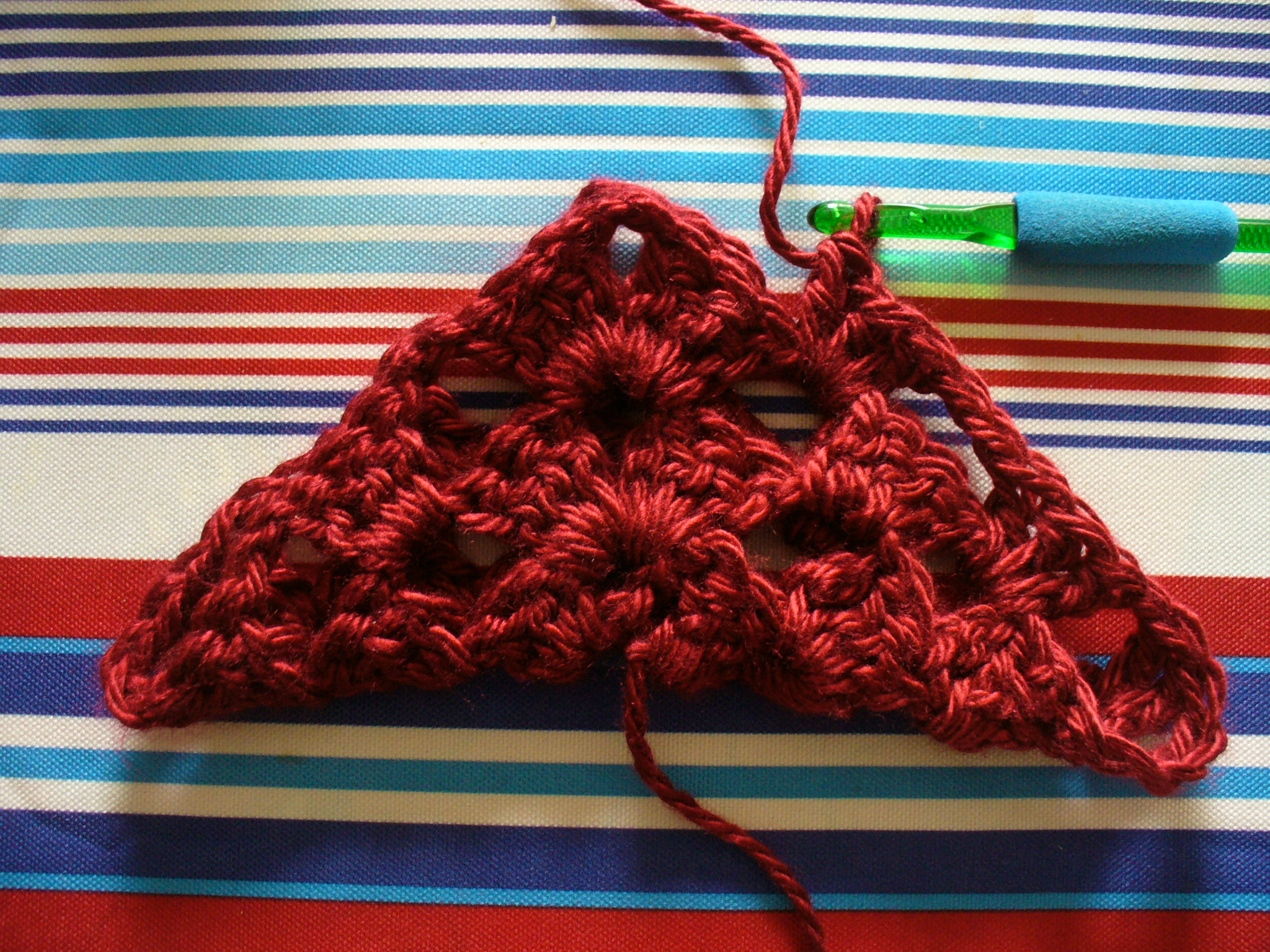 Pg. 87 - One Step at a Time (pattern correction) - A line of type is missing at the end of Row 5. It should read - "...Ch 3, turn at end of Row 4; end off, turn work at end of Row 5." At the start of Row 6, you *ch 18 (as specified), work across the top of the Row 5 as directed, then ch 20 and turn. You wind up with a long chain on either side of the row.
*Note from the designer: The start of the 18 ch sts is not attached to the work in progress, because you ended off after Row 5 as stated in the correction, so there is no loop and no reason to sc. The 18 chain stitches are just hanging out with no sc or any other stitches in them, then are worked in Row 7 as per the original instruction.

Pg. 90 - Peaceful Waves - Should read; "Ch 254 loosely"
Pg. 105 - "Great Grandma's Gift" Written by: Cathi Matuza
Pg. 107 - Three Ruffled All Shawl - Here is a 'tip' (and NOT a correction) from Doris Chan:
This shawl is shaped with V stitches. A V stitch is TWO stitches in the same space between stitches.

Row 1 sets up 9 Vs (or 18 stitches).
Row 2 puts a V in each V, and a stitch in the space between Vs, still 9 Vs but now 26 stitches.
Row 3 puts a V in each V, and a stitch in each of thew two spaces between Vs, still 9 Vs but now 34 stitches.
Pg. 122 - Green Pasture Shawl -
Row 2 - Reads: ch 2, turn. Row 3 says to Ch 2 then continue. You can omit 1 of the Ch2 instructions. This is the turning chain and is only required one time.

Row 4 - Sc in 1st dc, *dc in next sc, sc in next dc repeat from * to end. Ch2 and turn
Pg. 129 - "The Simple Scalloped Shawl Pattern" a note from the designer - Kelly Surace "The pattern was re-written to include stitch counts, however those stitch counts are incorrect. It states that you will end up with 160 stitches once you skip every other stitch on the foundation chain. However, you actually only end up with 80 stitches.... the short end of the shawl, which is where the scallops actually are, hence why it's named Simple Scalloped Shawl."
Pg. 153 - Peete Bowen lives in Athens, OH
Pg. 159 - "Shawl of Peace" author is Ann Foxworth
Pg. 161 - Topaz Shawl - Row 1: Sc in 5th ch from hook, * ch 4, sk 4 chs, sc in next ch. Rep from * to end, Ch 5, turn.
Corrections to the book: The Prayer Shawl Companion (first edition copies)
Pg. 32 - Sabbath Shawl -
Note from the designer: "four seed stitches will start and end every row."
Pg. 36 - Seven Sacrament Shawl -
"BODY (Cross Pattern)"- the first four and last four stitches should be in a 'garter stitch' and not a 'seed stitch'.
Rows 1-4 as written

Rows 5 & 7, 10 & 12, 13 & 15

K4 (marker), (yo, k2tog) twice, *k4, p4, k4; (yo, k2tog) twice, repeat from*, (marker) end k4

Rows 6 & 8, 9 & 11, 14 & 16

K4 (marker), (yo, k2tog) twice, *p4, k4, p4; (yo, k2tog) twice, repeat from*, (marker) end k4

Rows 17 - 24 as written
Pgs. 44 &163 - Calming Shawl
Pg. 44 - Pocket: Cast on 30 stitches
k1-b = knit stitch in row below and NOT through the "back loop" as indicated on pg. 163.

Detailed description on how to make: k1-b used in Bee Stitch pattern - Suggestion Submitted by: Madeleine P.
Insert point of right-hand needle through center of stitch 1 row below and knit the stitch, slipping it and the stitch above off needle at the same time. Use this technique for the Bee Stitch pattern on page 44.
Pg. 47 - Blessed Union -
Friends invited me to officiate at a celebration in their home to bless their civil 
marriage. In preparation my husband and I took turns knitting a marriage prayer 
shawl. We knit it long enough so it could be wrapped it around the couple during 
the ceremony. The folded shawl which held our prayers, was passed among the 
people who added their words of blessing. The community blessings transformed a 
traditional Christian service into a radically inclusive one. Jewish friends offered 
Hebrew blessings, gay and straight couples added their hopes and prayers, old and 
young alike participated. As we wrapped the prayer shawl around the couple for the 
final blessing they could feel the love and prayers of everyone gathered there.

From: Lucy Brady - Westminster, MD
Pg. 51 - Mexican Rainbow Shawl
Orange segment correction: "There will be 2 sts not used of the yellow square to match the little arc of the orange semicircle"
In the second band, row 3. It says "k1 3x, k1, sl1, psso, pull up next bar and psso." The first "psso" should be removed. You cannot slip the stitch over when there's nothing to slip it over.
CENTRE SQUARE - Cast on 41 sts - K 1 row.
Use 4 row pattern as follows, keeping 2 sts in garter stitch at each edge. Do not slip the first stitch on any rows:
Row 1 - K2 * Yfwd, insert rt hand needle between 2nd and 3rd stitch on left needle, pull yarn through, keep new stitch on rt needle, Knit into 1st and 2nd stitches from left needle as usual, now lift the new stitch over the 2 stitches just done. This puts a circle of yarn around the 2 stitches. Repeat from * across row to last 3 sts, K3.
Row 2 and 4: K2 , purl to last 2 sts, dropping all yfwds from previous row.
Row 3 - K2, K1 (this alternates the pattern) * yfwd, repeat as for row 1 to last 2 sts, K2
Repeat the 4 rows until 39 rows have been completed, Knit one row garter st. Bind off. Optional: choose small openwork pattern surrounded by 3 sts each side and 3 ridges top and bottom.

Also from the designer, "The pattern was not easy, so I leave it up to the individual to choose a pattern of their choice that results in a square and able to pick up the required stitches for the half rounds."
An additional note about the Mexican Rainbow shawl: Mexican yarn that might be considered sport weight or Patons Astra is slightly thinner than worsted.
Pg. 52 - Mexican Rainbow Shawl - Notes and comments from: Ann Goodwin - Designer of the Mexican Rainbow Shawl
BORDER - Triple Trinity Stitch - Row 1: K2, YO, K1, YO, K1, YO, K2, Slip last stitch, K into bar of last band (making new stitch) pass the slipped stitch over it, thus attaching as all other bands have been attached.

I just knitted a swatch and it appears that Row 1 is the one with an error: the last "K4" is incorrect, it should read "K2".

I originally explained this way of attaching to the previous band as follows:

Slip the last stitch, knit into next bar of previous band, pulling up a stitch, pass the slipped stitch over it. Turn. (Although I didn't specify, it is better to slip the first st. knitwise on all wrong side rows).
Pg. 55 - Prayer of Gathering
"God of Life, God of Love, God of Compassion" - Written by: Susan Izard - Knitting into the Mystery pg. 62
Pg. 58 - Cornerstone Shawl - Original Pattern by: Marian McKittrick
**For a 5 blocks wide shawl, cast on 53 stitches OR for a wider shawl 7 blocks, cast on 73 stitches

Row 1-7 - (*k1, p1) repeat from * across row - end w/knit stitch
Row 8: K1, p1, k1 *(K7, k1, p1, k1) repeat from * across row **5 times
Row 9: K1, p1, k1 *(P7, k1, p1, k1) repeat from * across row **5 times
Row 10: repeat row 8
Row 11: repeat row 9
Row 12: repeat row 8
Row 13: repeat row 9
Row 14: repeat row 8
Row 15-17: k1, *(p1, k1) repeat from * across row. End w/knit stitch.
Rows 8 through 17 become your pattern repeat. Repeat as often as necessary to get desired length.
Last 4 rows: K1, *(p1, k1) repeat from * across row.
Note: Rows 7 and 8 will have stitches that line up rather than alternate where they touch on the borders.

Thank you to Beth K. for correcting the pattern.
Pg. 64 - Mystery of the Trinity - Michael Zuravel
79 is the correct number of stitches. Here's the count for rows 1 and 2:
Breakdown of Row 1
Stitches
Sl 1 st purlwise with yarn in front
1
k9
9
k2tog, yo, yo, k2tog, k2tog, yo, yo, k2tog, k2tog, yo, yo, k2tog, k9
21
k2tog, yo, yo, k2tog, k2tog, yo, yo, k2tog, k2tog, yo, yo, k2tog, k9
21
k2tog, yo, yo, k2tog, k2tog, yo, yo, k2tog, k2tog, yo, yo, k2tog, k9
21
k6
6
Total stitches used in row 1, which equals the number cast on.
79
Breakdown of Row 2
Stitches
Sl 1 st purlwise with yarn in front
1
k14
14
k2tog, yo, yo, k2tog, k2tog, yo, yo, k2tog, k2tog, yo, yo, k2tog, k9
21
k2tog, yo, yo, k2tog, k2tog, yo, yo, k2tog, k2tog, yo, yo, k2tog, k9
21
k2tog, yo, yo, k2tog, k2tog, yo, yo, k2tog, k2tog, yo, yo, k2tog, k9
21
k1
1
Total stitches used in row 2, which equals the number cast on.
79
Rows 2 and 4 should start with a "sl1pwyif " (as do rows 1 and 3). Otherwise, both edges will not be the same.
Here is a detailed chart provided by 'Mystery of the Trinity' designer Michael Zuravel - The details outline the alignment of the pattern.
Row
O
O
O
O
O
O
O
O
O
3
O
O
O
O
O
O
O
O
O
1
O
O
O
O
O
O
O
O
O
3
O
O
O
O
O
O
O
O
O
1
O
O
O
O
O
O
O
O
O
3
O
O
O
O
O
O
O
O
O
1
O
O
O
O
O
O
O
O
O
3
O
O
O
O
O
O
O
O
O
1
O
O
O
O
O
O
O
O
O
3
O
O
O
O
O
O
O
O
O
1
O
O
O
O
O
O
O
O
O
3
O
O
O
O
O
O
O
O
O
1
The O's represent the double yarnovers.
The eyelets in the pattern are all double yarnovers. If you look at the yarnover diagram in the corrections for the book, you will notice the grey vertical lines. These represent the vertical rows of large holes on the outsides of each pattern grouping. They are more defined because there are no yarnovers immediately next to them in the next odd numbered row. The middle arrangement of yarnovers (between the vertical grey lines) only appear to be smaller because the yarnovers in the subsequent odd row are right next to the ones in the previous odd row. Notice in the yarnover diagram how the yarnovers shift back and forth in rows 1 and 3.
Pg. 78 - Patchwork Shawl - Marilyn Webster
A question from a prayer shawl maker:
The graph is showing 29 stitches. You are asked to cast on 269 stitches. 29 into 269 is 9 with 8 stitches unaccounted for.

Should I be casting on 261 stitches?
Response from Marilyn Webster:
The repeat is actually only 10 stitches. Working from the right of the graph, the first 7 stitches form the border, then there's the repeat of 10 stitches (which should be repeated 25 times) set off by bolder lines, 5 stitches to balance the design, and finally 7 stitches for the other border.
Pg. 83 - Seeds of Intention Heart Warmer - comments by: Wren Ross
"I wanted the edges of the shawl to have a border of garter to keep it from rolling so it is ok if there are three or four knit stitches at each end and the bottom. If you purls the knits and knits the purls on alternate rows.... The first row of seed stitch could begin with a purl instead of a knit.

This is not a pattern that needs to be completely exact- that's why it is good for a prayer project. You can find your own rhythm with it. Just be sure to increase the edges kf&b and knit the purls and purl the knits. Wren"
Pg. 88 - Forest Path - Written by: Shelia MacNeil - Corrections submitted by: Karna F.
Rows 3 & 4 "p6, p8" should read: "p6, k8"
Pg. 95 - Baptism Shawls - Casting on 21-24 stitches is for bulky weight yarn, and around 36 stitches for worsted weight.
Pg. 114 - Nicky Epstein's Wedding Capelet
Row 4 should read: P1, *p3, (k3, p1) 5 times, rep from *, end last repeat p3.
Pg. 140 - Basketweave Shawl - Cast on an 'even' number of stitches divisible by "6" such as: 60 or 66 stitches

Pg. 147- Prayer Cloth Pattern - Original Design by: Marjorie Winston - Sellersville, PA
If you have any questions, feel free to contact us at: shawlministry@yahoo.com - please entitle your email: "corrections"